The Quarterly Newsletter July to September 2023
Leading the way: Note from the desk of Head-Operations:
As we reunite through the pages of our newsletter, I am reminded of the incredible strength and resilience defining our remarkable Sambhav Saadhya family.
In a world often overlooking the unique abilities of our students, we stand united as a beacon of hope and support. At Sambhav Saadhya, our mission remains steadfast: creating an inclusive and nurturing environment where every student can flourish, embracing their challenges and differences.
Reflecting on the past year fills me with immense pride for our collective accomplishments. Our students continue to redefine possibilities, achieving remarkable milestones. Their academic achievements and artistic expressions attest to the boundless potential within each one.
Beyond accomplishments, it is the sense of community and belonging that we have cultivated that stands out. Sambhav Saadhya is more than a learning centre—it is a place where diversity thrives and inclusivity triumphs. Our continuous initiatives pave the path toward a brighter, more inclusive future.
I extend my heartfelt gratitude to our devoted teachers, staff, and volunteers for their ceaseless efforts in making Sambhav Saadhya a realm where dreams are nurtured. Your unwavering commitment lays the foundation of our success, and we cherish your dedication daily.
To our parents and families, thank you for your steadfast support and advocacy. Your partnership is invaluable in navigating the challenges that lie ahead, ensuring we emerge triumphantly.
Looking forward, let us remain inspired by our students' infinite potential, championing inclusivity, celebrating diversity, and fostering a supportive community that believes in the boundless capabilities of each individual.
In the following pages, you will find updates on upcoming events, workshops, and activities. I encourage everyone to stay engaged, contributing collectively toward a brighter, more inclusive future.
With Heartfelt Appreciation
– Simran Kaur (Head Operations)
Striking a Chord – Interaction with the Intellectually Challenged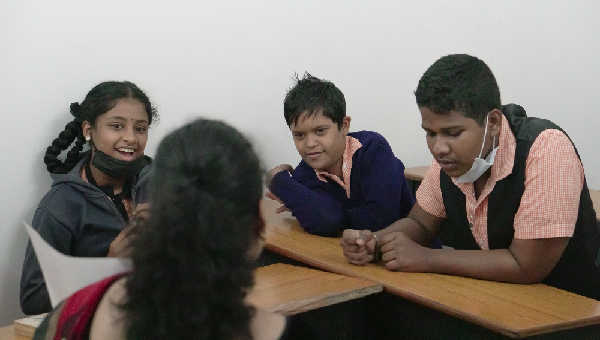 As World Mental Health Day was recently observed, it's important to emphasise the need for compassionate interaction with the intellectually challenged, especially children. These exceptional individuals, like everyone else, deserve our kindness, respect, and understanding. When interacting with them, our societal duty is to ensure their comfort. Meeting intellectually challenged children can be a heart-warming experience, but it's natural to feel uncertain about how to make them feel included. Below, we explore 6 practical steps to connect with intellectually challenged children, fostering a positive and inclusive environment.
Be Patient and Understanding: When engaging with intellectually challenged children, patience is key. Understand that they might take a little longer to process information or respond. Give them the time they need and avoid rushing them. Be attentive and listen actively to what they are trying to convey, whether it's through words, gestures, or expressions.
Use Simple and Clear Language: Communication is at the heart of any meaningful connection. Keep your language simple and concise. By using simple language, you can ensure your messages are easily understood, fostering trust and building rapport.
Maintain Eye Contact and a Friendly Tone: Establishing eye contact and speaking with a warm, friendly tone can create a sense of trust and comfort. These non-verbal cues convey your genuine interest in their well-being, making them feel valued and appreciated. A smile can go a long way in making them feel at ease.
Include Them in Activities: Motivate them to actively engage in activities and games suitable for their age, activities that provide both physical and mental stimulation. Inclusion stands as a potent means of making them feel valued and integrated into the dynamic group. Whether it involves playing games, immersing themselves in creative crafts, or participating in other communal activities, their participation is essential in cultivating a strong sense of belonging.
Celebrate Achievements and Efforts: Recognize and celebrate their accomplishments and efforts, no matter how small they may seem. Positive reinforcement can boost their self-esteem and motivation to learn and grow. Offer praise and encouragement to show them that their progress matters.
Make Them Feel Inclusive: Lastly, people with disabilities need to be treated as normal human beings. They appreciate and respond well to empathy rather than sympathy. They need to feel as one amongst all of us, rather than being subject to pity or mercy. Making them feel inclusive is our responsibility while making space for equal opportunities to live a life with dignity.
Following these simple steps can help in creating an inclusive and welcoming environment where intellectually challenged children can thrive and grow. Your acts of empathy and kindness have the potential to make a profound difference in their lives, contributing to a more compassionate and inclusive society.
A Day in the Life at Saadhya School: Nurturing Minds and Hearts
At Saadhya School, every day is a journey of growth, learning, and boundless potential. Here's a glimpse into a typical day at Saadhya, where we aim to empower our students with academic knowledge, livelihood skills, and above all, independence and self-reliance.
10:00 AM – 10:05 AM: A Moment of Reflection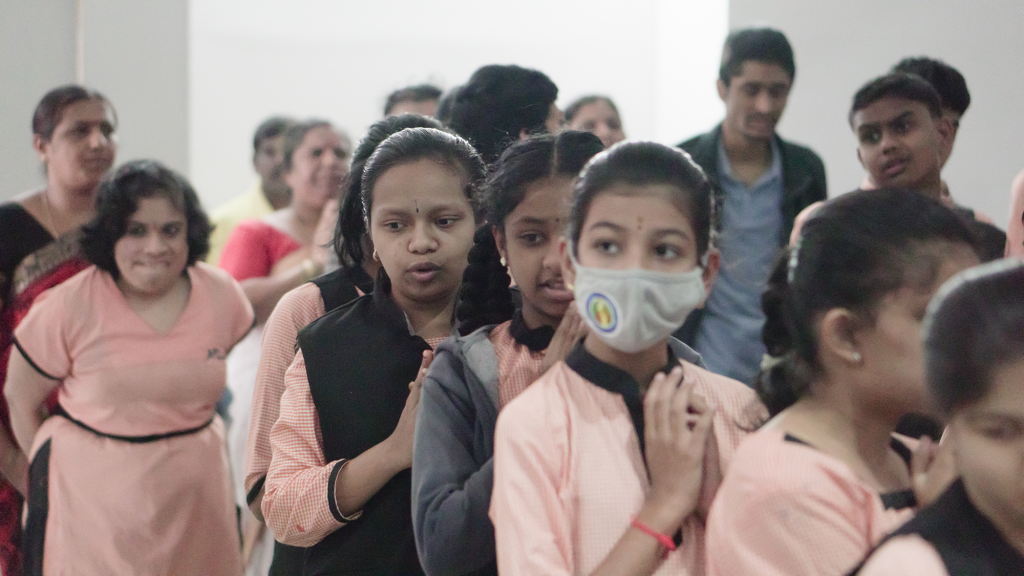 Our day begins with a heartwarming gathering. As our students assemble in the classroom, we take a moment to connect with the divine. A short prayer sets the tone for the day, infusing it with positivity and gratitude.
10:05 AM – 10:20 AM: Energising Warm-Up
Next, what better way to freshen up and prepare minds and bodies than a fun exercise/dance session? Our warm-up exercises are designed to refresh our students, preparing them for an active day ahead. The vitality these exercises bring is truly notable.
10:20 AM – 10:30 AM: Cultivating Reading Habits and Positivity
Reading is a gateway to a world of knowledge and imagination. To nurture the reading habits of our students, we introduce a daily newspaper reading activity. This is followed by sharing a "thought for the day," to encourage positivity and motivation.
10:30 AM – 11:30 AM: Academic Focus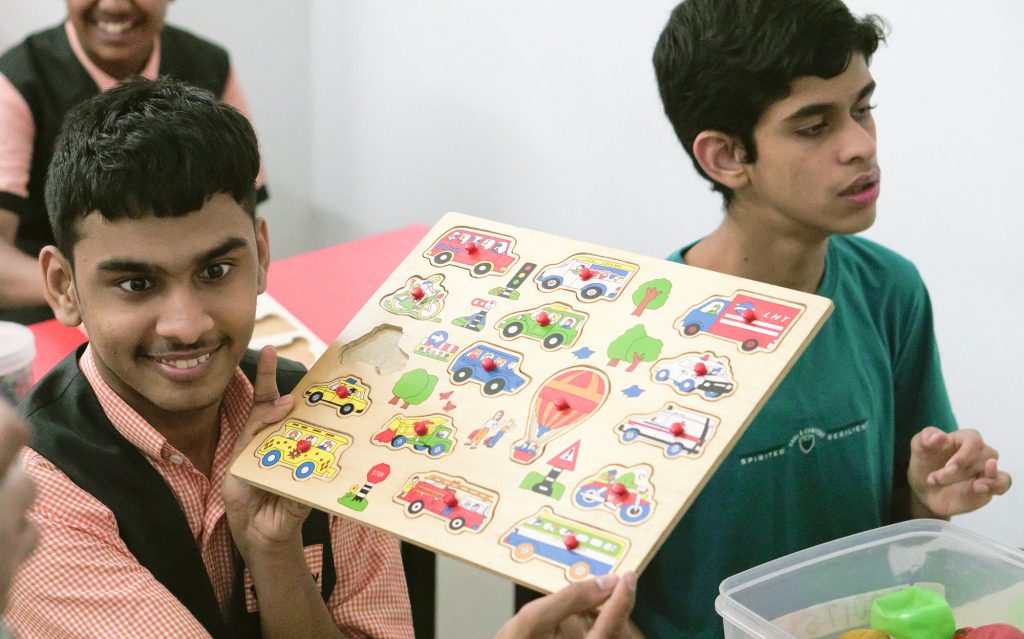 Having been energised, our students are ready to delve into their academic sessions. We follow the curriculum provided by the National Institute of Open Schooling (NIOS), tailoring it to meet their unique needs. Our commitment goes beyond academics; we also focus on personal development through a variety of engaging activities.
11:30 AM – 12:00 PM: Nutrient-Rich Snack Time
After their classes, it's time to recharge with a fresh and nutritious snack. We believe that a healthy body supports a healthy mind. Our students enjoy snacks like sprouts, boiled vegetables, salads, and more.
12:00 PM – 1:30 PM: Creative Group Activities
Creativity knows no bounds at Saadhya. In this segment, students come together to explore activities in art and craft. Painting, paper crafts, drawing, and other creative activities promote self-expression.
1:30 PM – 2:15 PM: Lunchtime
A balanced diet is vital for our students' well-being. Our dedicated support staff ensures that every student receives a hot, healthy, and nutritious lunch. For those who need assistance, they are cared for attentively.
2:15 PM – 2:45 PM: Hobby Session
After a nourishing meal, students are engaged in fun break sessions that support any hobbies or activities that they are interested in. Activities range from playing with puzzles and dancing to baking cookies, moulding clay, and outdoor playtime in the nearby park.
2:45 PM – 3:30 PM: Beyond the Classroom
The final period of the day takes our students beyond the classroom walls. We believe in experiential learning, which often means visiting nearby markets to grasp concepts of currency and familiarise themselves with their surroundings. We also conduct activities tailored to their goals and interests.
But our commitment doesn't end here. At Saadhya School, we go the extra mile for our students' holistic development. Regular physiotherapy sessions ensure their physical well-being, conducted by dedicated interns from healthcare institutions. We also have the expertise of Dr Mani, an in-house psychologist, who provides counselling and therapy sessions catered to each student's behaviour, skills, and medical history.
Highlights and Happenings – July, August and September: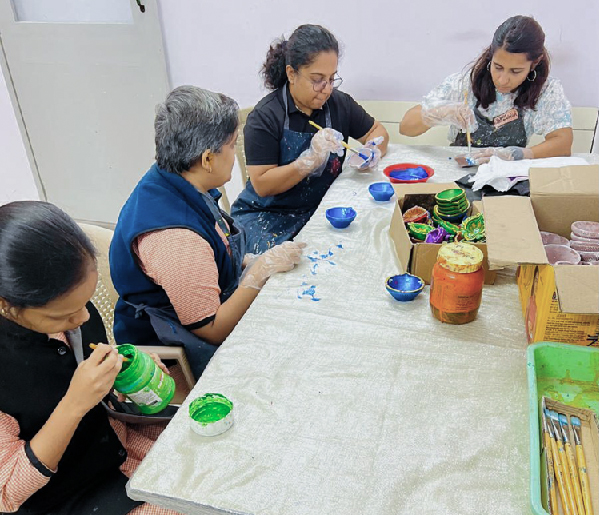 July:
Google India Visit to Saadhya School
What an exciting day it was! On July 27th, Saadhya School hosted a group of volunteers from Google India. The day was filled with heartwarming moments and unforgettable experiences. It began with a warm welcome that set the tone for what was to follow. Biju Kumar, Head of Saadhya, and Dr. Gayathri Vasudevan, our Founder, led an engaging discussion about our school's mission and the various areas where we aim to make a difference.
The volunteers quickly forged a strong connection with our students, turning initial interactions into budding friendships. Highlights of the day included mat knitting, papercraft, and diya-painting activities, where the volunteers joined the students in showcasing their skills. The burst of colours and creativity in the finished products, enhanced by the volunteers' company, made everything all the more special. The students, as enthusiastic as ever, enjoyed taking pictures and sharing meals with the volunteers.
This day was made unforgettable by the team's involvement, meaning a lot to us and our children. Our heartfelt gratitude goes to the Google team for the enthusiasm and love they brought with them. A special thank you to Anshika Gupta for organising this event.
Beyond all Odds- Recognizing Growth
Rakshita and Nishitha's outstanding academic performances were recognized and rewarded with a cash prize of Rs. 2,500 by our founder, Ms Gayathri Vasudevan. Rakshita, 21, was diagnosed with ADHD, and Nishitha, 15, had a hearing disability when they joined us in 2007 and 2014, respectively. Both also experienced delays in speech development.
These two young women have overcome their challenges under Saadhya's care and guidance, reaching significant milestones in their lives. They successfully cleared the 10th grade under the NIOS (National Institute of Open Schooling) curriculum, marking a transformative journey towards confidence and learning.
Learning comes with its unique set of challenges, and for students facing intellectual disabilities, the road to success can be particularly tough. Time and again, Saadhya students have proven that with the right guidance and opportunities, disability doesn't hinder the achievement of their dreams. Rakshita and Nishitha stand testament to this belief.
Celebrating the achievements of students like Rakshita and Nishitha fosters hope and belief in the broader student community, affirming their valuable place in society. Given the right opportunities and a supportive learning environment, they too can flourish and achieve remarkable things in life.
August
Independence Day Celebration
On August 15th, Saadhya School organized a special celebration to commemorate India's 76th Independence Day, fostering a sense of patriotism among our students. Students were encouraged to dress in tricolour attire, embodying the spirit of the nation. A unique aspect of the celebration was that the program was entirely executed by the students themselves.
From the commencement prayer to the welcome speech, our students took centre stage, showcasing their talents through various performances such as group singing, dance, and entertaining skits that depicted India and its fight for independence.
An exciting fancy dress competition was held, where students dressed up as iconic freedom fighters, joyfully embodying the characters while paying homage to national heroes. Additionally, a drawing and painting competition was organized, enabling everyone to express their creativity through sketches and colours, representing the national flag and the map of India.
The celebration concluded with a harmonious rendition of the National Anthem, symbolizing unity. To extend the impact of the celebration, 22 cans of herbal cleaning agents were distributed to 21 government schools in Chikkamagalur District, Karnataka. This act symbolized the immense potential of our students to positively influence and contribute to their communities.
Farewell to the Interns
Interns from KTG College, Bangalore, have been instrumental in supporting Saadhya students over the past three months, providing essential services in physiotherapy and occupational therapy. The outcome of these therapy sessions surpassed our expectations, exhibiting remarkable improvements among students within a short period.
The interns played a crucial role, especially when the school reopened post-pandemic. They helped our students, who were emotionally affected and felt restricted due to the lockdown, cope with the challenges. Their supportive presence became a substantial pillar, aiding our faculty and enhancing the effectiveness of therapy sessions.
Their empathetic approach fostered strong connections with the students, making physiotherapy sessions more engaging and productive. The occupational therapy provided helped improve the students' responsiveness, expression, and, in some cases, even speech capabilities.
We express our heartfelt gratitude to KTG College and its authorities for enabling this beneficial internship at Saadhya School, contributing significantly to our students' progress and well-being.
September
Teachers' Day Celebration

Teachers and staff are the pillars of support at Saadhya School, and this Teacher's Day was marked with vivid enthusiasm to honour their continuous hard work and dedication. The vibrant celebrations included song and dance performances, with both students and teachers showcasing their talents. Tokens of appreciation, embodied in flowers and presents, were shared, reflecting the students' deep gratitude and fondness for their mentors and the supporting staff. The day resonated with heartfelt thanks, appreciating the transformative power and influence of our educators and support staff in moulding the lives of the students.
Voice of Gratitude:
Girijamma, Mother of Babu

"A few years ago, Babu was non-responsive and heavily reliant on us for daily tasks, showing minimal signs of typical developmental growth. This solitude concerned us, leading to our decision to enrol him at Saadhya. The experts at Saadhya, through careful observation and counselling, enlightened us about Babu's mental age being younger than his chronological age, explaining his unique behaviours and reactions.
Thirteen transformative years have passed under Saadhya's nurturing care, filled with invaluable counselling and therapeutic guidance. Today, Babu exhibits significant improvements in daily functioning and social skills. The journey also enlightened us as parents, equipping us with effective strategies to support Babu's continuous improvement.
"Witnessing Babu's incredible journey brings tears of joy and immense gratitude towards Saadhya's compassionate teachers and the nurturing environment they cultivate."
Talent Showcase
Saadhya School is a platform where creativity knows no bounds. We celebrate our students' diverse talents, from painting and colouring to crafts such as origami and upcycling, and even clay work. Our showcase is a testament to the unconquerable spirit of our students, demonstrating that with encouragement and guidance, talent and creativity flourish, emphasizing the potential and resilience nurtured at Saadhya School.
Product Showcase
Our dedication to fostering holistic development extends beyond conventional classroom learning. We take immense pride in displaying products crafted by our students, who are 18 years and above. These products, ranging from herbal cleaning agents to painted diyas, embody our commitment to promoting independence and self-reliance among our students. Supporting these endeavours by purchasing these products paves the way for their journey towards self-sufficiency and integrative societal contribution.
Joy of Giving
Entering the season of generosity, we invite you to partake in our mission, aiming to illuminate the lives of our students continuously. Your generous donations empower us to embrace more individuals from the intellectually challenged community, guiding them towards enriched livelihoods and enhanced societal contributions
Volunteer today to shape an inclusive society tomorrow.
Click here to Volunteer with Us!